Fix: Windows 10/11 Update Error Code 0x80070003
The Error code "0x80070003" is a common Windows error typically occurs when there is an issue with a file or folder on your computer.  Error 0X80070003 also known as the "Windows Update error" or the "Windows Store error", as it often appears when attempting to update Windows or install an application from the Microsoft Store.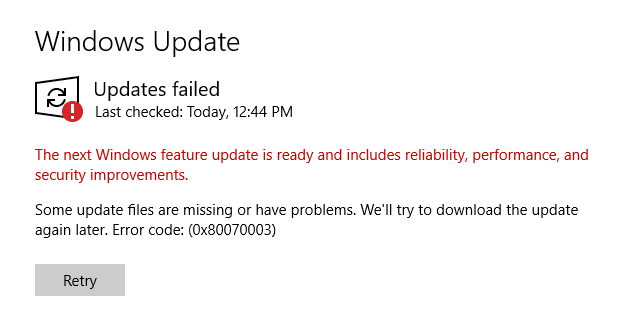 The error message associated with this code usually reads: "Windows could not complete the installation. Install Windows on this computer, restart the installation."
Causes of this Update Error code 0X80070003 :
Corrupted system files: Some system files on your computer have become corrupted, this can lead to Windows Update Error code 0x80070003. May this happen due to a malware infection, failed software installation
Incorrect file permissions: File or folder that Causes the error has incorrect permissions, Windows may not able to access it, results in the Update 10 error code 0x80070003.
Windows Store error :  Existed issues with the Windows Store, such as missing or corrupt application files, Result in the Update 10/11 error  0x80070003 when attempting to install applications from the store.

To fix this Error code 0x80070003  there are several troubleshooting steps 
Run Windows Update Troubleshooter:
 The Windows Update Trouble-shooter is a built-in tool that can help identify and fix issues related to Windows updates. To run this tool
Press t0 Windows key + I to open the Settings app tab
Click on "Update & Security
Click on "Troubleshoot"
Click on "Additional trouble-shooters"
Pick out the "Windows Update" and click "Run the trouble-shooter"
The trouble-shooter will scan your system for any issues related to Windows updates and try to fix them automatically.
Clear the Software Distribution Folder:
The Software Distribution folder on a Windows computer is used to store temporary files required for installing Windows updates.
Press to Windows key + R to open the Run dialog box.
Type to "services.msc" in the Run dialog box and click OK tab
Scroll down the list of services until you find "Windows Update" and "Background Intelligent Transfer Service (BITS)".
Right-click on each of these services and select "Stop" to temporarily disable them.
Close the Services window.
Open File Explorer and navigate to C:\Windows\SoftwareDistribution.
Select all files and folders in the Software Distribution folder and delete them. You may be prompted to enter your administrator password or confirm that you want to delete the files.
Return to the Services window and right-click on the Windows Update and BITS services again.
Select "Start" to restart these services.
Restart your system to ensure that changes may take effect.
Observe these steps, the Software Distribution folder will be cleared, and should be able to download and install the Windows updates without any issues.
Check file permissions:
Make sure that the file or folder ocuurs the error to correct permissions. You may need to take ownership of the file or folder and grant yourself full permissions.
Reset the Windows Update and Windows Store components: This involves stopping the associated services, renaming certain folders, and restarting the services. This can help reset any issues with these components that may be causing the Windows Error  0x80070003
Press the Windows key + X and select "Command Prompt (Admin")

Type the given follow commands and press Enter after each of the command:

net stop wuauserv
net stop cryptSvc
net stop bits
net stop msiserverren C:\Windows\SoftwareDistribution SoftwareDistribution.old
ren C:\Windows\System32\catroot2 catroot2.oldnet start wuauserv
net start cryptSvc
net start bits
net start msiserver
Close the Command Prompt and restart your computer.

Check and repair file system errors: File system errors may occurs this Update 11 error code 0x80070003.

To check and repair file system errors, follow these steps:

Press the Windows key + X and select "Command Prompt (Admin)"
Type the given follow command and press Enter:sfc /scannow
Wait for the scan to complete and check if any errors are found and repaired.
Nslookup for server
Open to command prompt
Enter to nslookup update.microsoft.com
The server's name should have Microsoft in it, if it has continued the below steps, if it doesn't have your PC is not connecting to Microsoft server, talk to experts on chat
Delete temporary files:
Temporary files may raise this error code 0x80070003. To delete the temporary files,
Press to Windows key + R to open to Run dialog box tab
Type %temp% and press Enter
Select all the files and folders in temp folder and delete all
End the temp folder and restart your system.
Disable third-party antivirus software:
Sometimes, third-party antivirus software can interfere with Windows updates and cause. check if this antivirus software causes the issue
How to temporarily Disable Antivirus:
View Antivirus Application (McAfee or Norton or AVG) mounted on the computer.
Tap on to settings and go for actual time protection.
Select Turn Off actual time protection option.
Point out to the Antivirus firewall and pick out Turn off Antivirus Firewall.
How to disable windows defender
Open to the Windows Security
View to Virus & risk in windows secure window.
Tap on to Manage settings, under the Virus & threat protection.
Swift to Real-time safety to Turn Off.
Conclusion :
If you have problem in doing this method, we recommend you to chat with our experts. I am sure they will guide you and help resolve this issue Windows 10/11 Update Error code 0x80070003 . You can also visit website for more details and information.
Tags: Error 0X80070003, Error code 0x80070003, Update 10 error code 0x80070003, Update 10/11 error  0x80070003, Update 11 error code 0x80070003, Update Error code 0X80070003, Windows 10 error code 0x80070003, Windows Error  0x80070003, Windows Update Error code 0x80070003